In Lawrence County TN, the wife of a Sheriffs Deputy was attacked by a scumbag who attempted to rape the 5′ 3″ woman.  Oh yeah, she weighs about 100 pounds.
During the attack she managed to take the goofs knife away and stabbed him  several times.  She also bit him on the chest leaving a doozie of an imprint.
She broke free and called 911.  The suspect was arrested and claimed that he was forced to commit the crime.  Sure you were.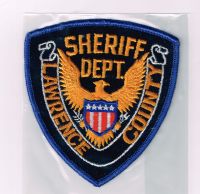 This wipe was just released 3 days earlier from the Lawrence County jail after being booked for a number of violent felonies.  He has a long and violent history with Law Enforcement.
The Sheriff was bombarded with quires asking why they let this guy out of jail.  The Sheriff replied that he doesn't set bonds…judges do.  Please redirect your e-mails and comments to the judges.
Wake up you black robed upholder of the law.  Some folks shouldn't be allowed to walk the streets and this jerk sounds like one!
After the ordeal the Deputy's wife was treated and released from a local hospital…the suspect wasn't so lucky.  He was admitted in serious condition.  Too bad he wasn't 10-7, with mileage.
Maybe this guy needs to be placed in the joint where he won't be able to terrorize others.
Great job Mrs. Deputy!!
STAY SAFE, BUCKLE UP, WEAR YOUR VEST AND TURN ON YOUR CAMERA!
www.KenJDye.com